bHK
Das bureau Heuchel Klag wurde von Christian Heuchel (Architekt/Künstler) und Gunter Klag (Künstler) gegründet. Der Hauptsitz befindet sich im Kunsthaus des bHK in Bellheim. Arbeitsschwerpunkte sind die Sparten Kunst und Architektur. Die Arbeiten werden im In- und Ausland gezeigt.
Bureau Heuchel Klag was set up by Christian Heuchel (architect/artist) and Gunter Klag (artist). It has its headquarters in the bHK Art House in Bellheim. Work focuses on the fields of art and architecture. The works are exhibited in Germany and abroad.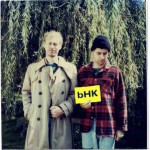 Die Künstler
Christian Heuchel
Architekt und Bildender Künstler, Köln
Geboren 1966 in Germersheim. Studium der Architektur an der
Universität Karlsruhe und der Baukunst an der Kunstakademie
Düsseldorf. Abschluss als Meisterschüler mit Auszeichnung im Jahr
2000, Stipendiat auf Schloss Solitude Stuttgart. Lehrauftrag
Kunst und Architektur an der Kunstakademie Düsseldorf.
Gründungsmitglied von bHK und rheinflügel. Förderpreis des Landes NRW für junge Künstler 2005 mit rheinflügel. Seit 2006 Büroleitung Ortner&Ortner Köln.
Gunter Klag
Bildender Künstler, Bellheim
Geboren 1965 in Ludwigshafen. Autodidakt. Mitglied des BBK Rheinland-Pfalz. Zahlreiche künstlerische Arbeiten in öffentlichem und privatem Besitz.
Teilnahme an Kunst am Bau Wettbewerben. Tätigkeit im Bereich Erwachsenenbildung (Freihandzeichnen, Elementares Gestalten, Hochdruck, Tiefdruck, Medienkunde).